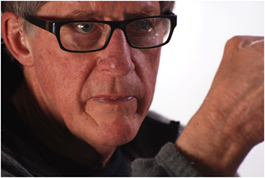 I was born in 1945 in Portland, Oregon. I grew up in the working class neighborhood of Ardenwald, just south of Portland in Milwaukie. Growing up I loved making and fixing things. My element in high school was metal shop. I graduated from Milwaukie High School in 1963.
Fresh out of high school I worked for Zidell Explorations making barges out of rusty WWII ships on the waterfront near the Ross Island Bridge. I also worked for Gunderson Brothers on Front Avenue making railroad gondola cars and Hanna Enterprises making car washes. I loved these experiences and also learned that it might be a good idea to get a college degree so I could earn more money and have a better life.
In the mid 1960's I began taking classes at Portland State College. I supported myself while doing this with welding jobs. I was drawn to art classes especially jewelry, architecture and sculpture. I settled in on sculpture and identified with Jim Hanson. I was also very interested in furniture design. I graduated from PSU in 1970 with a BS in sculpture.
After graduation I worked for ten years for Design Group Incorporated. Design Group's owner, Harry Weitzer, was a friend of the late George Schwarz, a PSC architecture instructor. George designed a line of oak library furniture that was initially sold to PSC for the new library. George's design propelled DG into a national market in a library furniture niche. A few years later office furniture also became a staple. I did lots of design drawing, adapting our products to meet design specifications.  From 1980 -1984 I was a sole proprietor for a small custom furniture/cabinet shop In Portland. After struggling financially I went back to DG for a time and a few other furniture producers as well.
Making a decision to change careers I went back to PSU and earned an MS in education in 1990. I worked in Special Education with older students in transition to adulthood until my recent retirement in June of 2007. I continue working part time for Portland Public Schools. I have developed a non profit social club for young adults with disabilities in partnership with Impact Northwest, a local social agency.
Concurrent with my move to retirement I have been working in metal, both sculpture and furniture. I am energized with this work. I am building a body of work in both areas and I am now promoting myself as a sculptor and furniture designer and maker.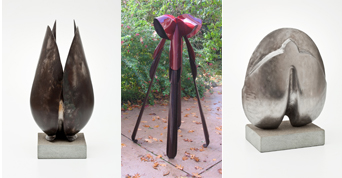 Exhibitions
Arts Council of Lake Oswego, Lake Oswego, Oregon, August 2011
Gallery Without Walls: Guardian of the Journey Sculpture
Lakewood Center for the Arts, Lake Oswego, Oregon, June 2011
Festival of the Arts Exhibit: Shovel Flower Sculpture
Portland State University, Autzen Gallery, November 2010
PSC Art Alumni Exhibition; Shovel Seed Pod Sculpture
Artisan Renovations Inc., Beaverton, Oregon, June 2010
PCC Rock Creek Art Student Exhibit; Three Sculptures
Portland Community College, Rock Creek Campus, May 2010
PCC Student Art Exhibit; Three Sculptures
West Hills Friends Church, Portland, OR, July 2009
Art Exhibit; Sculpture and Furniture